MOD Fiber Mist and Smoke Collector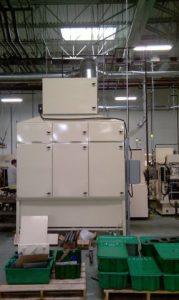 The MOD Fiber Mist and Smoke Collector (2400 to 7200 CFM) is designed to filter water soluble mist, oil mist or oil smoke depending on the filter configuration.  For water soluble mist a coalescing fiber bed filter is a pre-filter, the second stage coalescing fiber bed filter removes and filters the mist.  For oil mist a more efficient coalescing fiber bed filter is used as a pre-filter and the second stage coalescing filter is more efficient then the first stage.  If oil smoke exists then a HEPA filter is added to the oil coolant two stages of coalescing fiber filters.  The MOD fiber can either be hung from the ceiling near machine, or floor mounted.  The advantage of the MOD Fiber is the filter cabinets are modular, if you need extra pre-filters, add on a HEPA filter, or Carbon filter you can easily do this even after the unit is installed.  The MOD Fiber unit is available in a few combinations, you can go with a double stack of filters called a MOD 2, a triple stack called the MOD 3, four stacks called the MOD 4 or finally a six stack of filters called the MOD 6.  The MOD Fiber has a variety of blower options to match your airflow and static pressure requirements.
Filters water soluble mist, oil mist, and oil smoke
 Nominal 2400 to 7200cfm depending on application and filter life
Two stages of fiberbed filtration with optional 3rd stage HEPA for oil smoke
Optional pre-filters if heavy solids are in the airstream
Floor stand option
Noise attenuators
Magnehelic gauge for quick reference of filter loading for ease of maintenance
Spec Sheet Request
Please fill out the form below and the MOD Fiber Spec Sheet will be emailed to you.